What's the only place you reach to relieve all the stress at the end of the day? Without any doubt, it's always your bedroom where you plan to take a nice night's sleep or maybe Netflix and chill. Since it is where you relax, its design and décor should be carefully thought out. You must ensure that the sight of your bedroom gives you peace and not extra anxiety over the congested spacing. Everything matters to provide such an environment, from the colors you choose for the walls to the bedding you choose to dress your bed. Don't be surprised if we mention that even your corner behind the door also plays a significant role.
Before we discuss our ideas for designing a bedroom, one more thing matters: are you planning to share the room with someone or make it all yours? Well, being a single person matters a lot here. But more specifically, we will share our ideas for a single-woman female bedroom touch.
Wall art, corner setup, and floor decoration; Let's have a look at all the possible things you can focus on to make your bedroom look aesthetically pleasing and relaxing at the same time.
Mirror-Mirror on The Wall – Or the Floor?
One trendiest women's bedroom ideas has to be the mirror setup. Gone are the days when people included huge dressing tables with multiple drawers attached to them. Now, it's all about the standing mirror decorating one corner of the room. For several reasons, a vertical mirror style is suitable for a comfy bedroom furniture set. For example, it sets up quickly and doesn't require much to care about.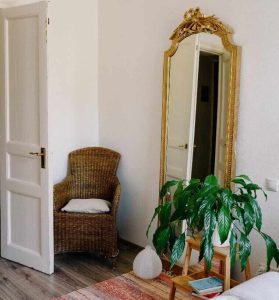 Besides that, full-standing mirrors can create a perfect picture corner for you. Place a fresh plant next to it or add some bulbs to give a touch of glamour to it. And voila, you have a selfie corner inside your room. You can also place a chest of drawers to keep your makeup or skincare, anything you want for your convenience if you feel like the surroundings of a stand-on mirror look boring.
Dress Your Bed Well:
Setting up the corners and walls of your room comes afterward; your furniture is the main center of attention. To be more specific, the bed is what catches the eye first. But besides just a piece of furniture, your bed is your comfort place. So it has to look relaxing. Once you choose the right mattress according to your requirements, your sheets are on top of what comes next.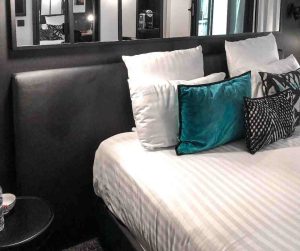 The colors, print, and most importantly, the material, everything has to be taken care of. The color of your bed sheets must complement the walls of your room. For that, neutrals are always the best option, no matter the color of the walls. Secondly, it's print; go for the most uncomplicated and neat artwork so that later on, your extra comfort pillows and other room decors can shine out.
Search for Single Woman Female Bedroom Decor Wall Decorations:
You must have heard the term that the walls can speak louder than words. Your furniture and paint might be well decorated, but the wall art and design can do the magic. Arts and crafts can bring out things you can't even imagine being existential with a single product. You can go for minimal wooden wall hangings and block art. Other than that, fairy lights can give your room a cozy vibe.
Not being committed gives you the leverage to decorate according to your desires. You can explore many bedroom decorating ideas for single women and create an amazingly appealing room for yourself. The walls of your room allow you to be creative. Play around with the plaster or paint different patterns; you can do anything. If this sounds like much work, hanging beautiful frames is the go-to solution.
Last Words
Designing a room feels necessary every once in a while. Sometimes it's because you get bored of the usual room setting; sometimes, it can be a situation required. Whatever reason you may hold, you don't have to worry about it anymore. To save you time from spending extra hours thinking about what you should do to get the best interior for your room, we have already penned down some great ideas for you.
The above-mentioned single woman bedroom ideas for interior design are just a few. You can focus on the carpets, ceiling hanging, door decorations, and wardrobe design. Many more single-woman female bedroom ideas are available to follow and get inspired by. However, these are the most popular ones, requiring less effort but bringing noticeable changes. Being a single woman is all about celebrating and treating yourself. Creating a warm, comfortable, and well-designed room for yourself is one of the best queen treatments you can ever give yourself.