If we talk about the interior of a room, hands-down light plays the most major part. The whole effort is wasted when your bedroom interior is fantabulous but the lights are not up to the mark. Although, there are thousands of types of lightning for home interiors the trending ones these days are LED lights.
Discussing the advantages of LED lights, the top most is that they can spruce up any room. LED lights are pocket-friendly consume less electricity easy to install and provide a charming appearance to your bedroom. LED Rope lights are available in different sizes and designs. Since they have a variety of colors you get so many options to create a bedroom theme.
Also read: Bohemian Living Rooms
So if you are planning to give an aesthetic look to your bedroom by placing LED rope lights but wondering how to hang lights in the bedroom or what are the best places to put LED light in bedroom then you are at the right place. In this article, we will be discussing the best ideas regarding LED Rope lights for the bedroom.
LED Rope Lights
Before we head towards the different ideas of placing LED lights in the bedroom, let us give you brief information regarding LED rope lights. These are the LED lights that are attached to a string. LED Rope lights can be used indoors or outdoors. They consume less power, available in different colors, and lengths. In short, LED rope lights are always a Yes! to enhance the look of your house interior.
The Best LED Rope Light Ideas For Bedroom
As LED rope Lights Are pocket-friendly and easy to use they become the ultimate option for those who want to improve their standard of living. These lights are the most preferable option to create an attractive and elegant ambiance in the bedroom. Following are some of the innovative ways through which you can enhance your bedroom.
LED Rope light on the wall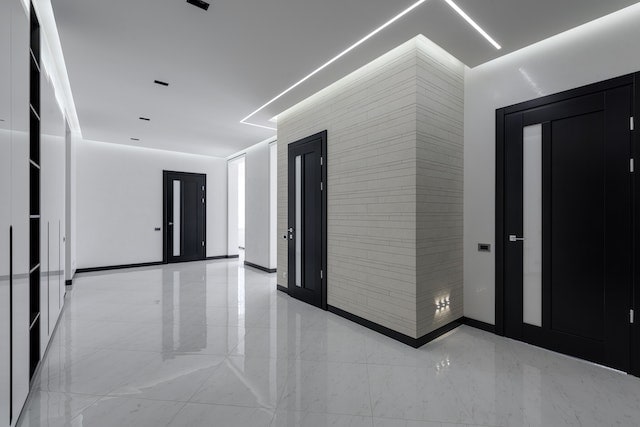 For elegant stylish and modern illuminated bedrooms, people prefer installing LED rope lights on the walls of their bedrooms. This is a quick and easy way to improve the interior of the bedroom. There are different ways in which you can install LED rope lights on the walls of the bedroom.
The easiest way to install LED lights is by wall lightning. Select a particular wall where you can install LED strings. The light strings get all the attention towards a particular wall giving a unique look. You can position the light according to your choice of intensity.
You can also install LED lights on shelves on the walls. If you have decorations items or books on the wall shelf it will give an illuminated appearance. Warm and dim LED lights work best for installing inside the shelves. You can also plan to install LED rope lights on the walls of specific portions of the room such as the vanity, study area, or the wall that has lots of interior decor hanging to it.
A lot of people have a specific color theme for their bedrooms and LED gradient lighting can be a good option to enhance the look of the room. If you have a room color blue, purple, pink, red, etc. You can create an ombre lightning effect by installing LED lights on the walls of your room. This adds to the color theme of the room making it look cosy and warm.
LED Rope Light On Ceiling
The biggest mistake people make while planning the interior of the house is they ignore the ceiling. LED rope lights on the ceiling create a relaxing atmosphere in the bedroom. It provides a stylish look and brightens the area. You can install LED lights on the ceiling based on your choice and budget.
The most common option for installing LED rope lights in the bedroom ceiling is indirect lightning. In this type of LED light installation, you will install the light along the margins of the ceiling. It provides relaxing radiance to the bedroom. These lights are available at different frequencies and you can control them with a switch on a remote in your smartphone software.
Another option for LED light in the ceiling is Cove lighting which is a comparatively expensive option. If you have a fancy ceiling, you can install a strip along with it. It gives an indirect, soft, and gentle atmosphere to the room. The lights are hidden in the bedroom ceiling giving a dim and relaxing vibes. You can select the color and size of the lights according to your room ceiling.
If you have a unique ceiling in your bedroom, you can place LED lights of different shapes like circles, stars, or hearts. It gives a dreamy and eye-catching look to your room. These lights are available in different colors, shapes, and sizes you can cover the ceiling with these LED lights. Around the ceiling, you can also install strips of LED light that give indirect lighting to the room.
LED Rope Lightning On Floors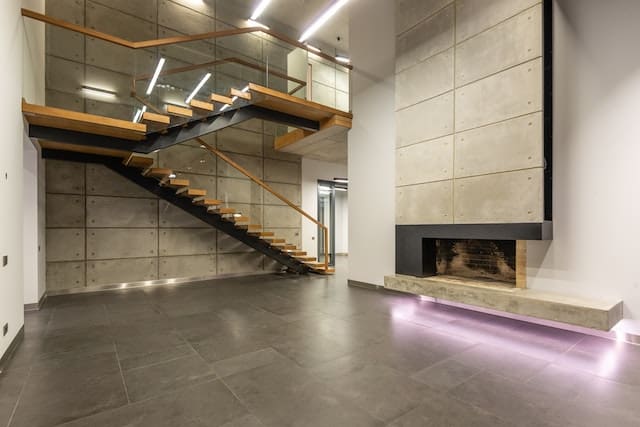 LED Rope lighting for floors is not the best option to enhance the functionality of lightning. However to improve the appearance this lightning idea has been on the top of the list for decades. A bedroom is a place where you can relax so installing LED lights beneath the bed can give a cozy glow to the floor. After a tiring day when you lie down on your bed, you will get an Illusion of a floating bed with this light idea.
You can also install LED rope light strips on the baseboard of the room floor. With these lights, you can create a lively and fun effect in the room. When you are not in the room you can turn on these lights so that it is not completely dark inside the room. You can also install LED light strips on the staircase. Good lights are very important on the stairs to prevent unwanted accidents or slipping.
LED Rope Lighting On the Headboard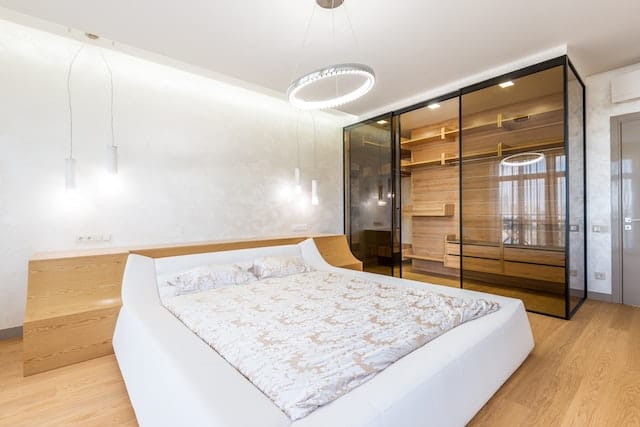 An illuminated headboard can improve the appearance of your bedroom. There are plenty of ideas you can do to install headboard lightning depending on your expense and personal choice. You can install a LED light string on the top of your bed which can give a relaxing appearance. Although dim light complements best on the headboard, the density of LED light strips is completely up to your reference.
If you have shelves installed on top of the headboard you can also install LED light strips on those shelves. Whether you have decoration items or artwork on those showcases, it will create a decent and elegant atmosphere. Instead of a headboard shelf if you have wallpaper or some artwork installed on the headboard area you can place an LED light strip around it. It will create a border on wallpaper, wooden walls, or any other wallwork. An LED light will draw attention to your head space and make the room bright and bold.
LED Light Ideas For Window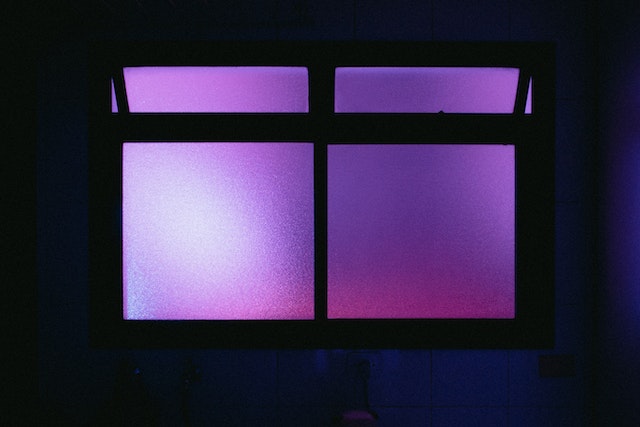 LED light installed on the windows is not the most popular idea but still, it is a good option special for those rooms where natural daylight is not accessible. The illusion that is created with the window LED lights can give similar vibes to Daylight. You can also install neon lights around the window frame so that it does not black out your bedroom at night. The color of the LED lights should complement your curtains and window Frame color.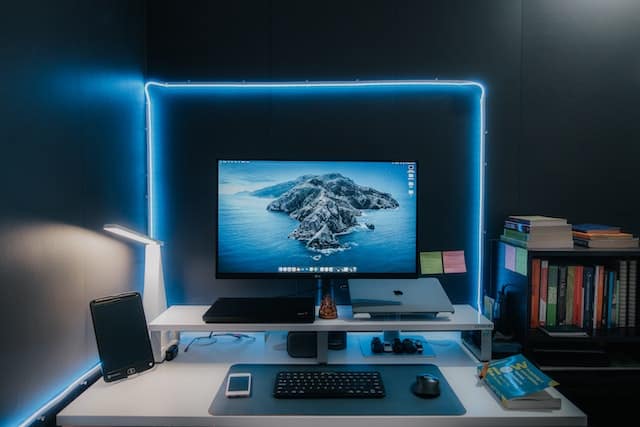 Some people do not have separate study, gaming, or office rooms hence they have their desks inside the bedroom. Your desk and the bedroom setup can merge with each other if you do not have any plans to separate them both. By installing LED light rope you can give a separate space to the working desk from the rest of the room.
You can install LED light underneath the desk to give a calm and relaxing atmosphere. You can also install LED lights along the shelves and compartments of the Desk. If you have a gaming setup, you can select a colorful funky theme for it. It will literally give the illusion of a separate room for your gaming system.
Some people also install LED lights around their LED screens and the desk. For this option, you will get a variety of colors and intensity of lights. Make sure that the color theme and intensity of the lights match your desk corner.
LED Rope Lighting Idea For Vanity And Wardrobe
If you are one of them who love to dress up their best then you will know the significance of an amazing wardrobe and vanity. There are many ways through which you can make your wardrobe attractive, fun, and luxurious. Installing LED rope lights is one way to give a larger and more spacious appearance to your wardrobe. You can install LED lights on the ceiling, floor, or shelf settings of your wardrobe.
Overhead LED light gives a sober and elegant look to your walk-in closet. If you install lights within the compartment of clothes and accessories, it will help you organize the wardrobe. Whether it is your clothes, shoes, or handbags everything you will put on those shelves will become prominent.
Mirror lights on the vanity are a never-ending Trend. For years, people have installed strips of lights on vanity Mirrors. Not just it looks amazing but it is functional as well. While doing your makeup and skin care you will never miss a spot.
Not just on the mirror but you can also install an LED strip light inside the vanity desk. It will give an elegant and relaxing atmosphere to the area. You can also install LED rope light strips in the drawers of your vanity. This will create a spacious luxurious setting for your expensive makeup products. You can also place your jewelry inside the vanity. When your vanity drawers have illuminating lighting inside them it will give extra spark to each product present inside them.
Final thoughts
We hope that the above mentioned LED rope light ideas for bedroom will help you in planning your dream bedroom. The best part about LED rope light is that it does not rigid your mind but rather makes you capable of fulfilling your imagination. You can always put your own taste and choice while installing LED lights. They are capable of turning unique ideas into reality.