Mixing patterns, sizes, styles, and colors may be difficult and daunting, especially when you have to fit the room's existing color scheme and design. You may pair a brown couch with many different throw pillow combinations. However, occasionally it takes work to get the desired aesthetic.
There are several options available to you when selecting a brown couch for your living room or even a bedroom, including chesterfield sofas, recliners, sectional sofas, mid-century modern sofas, chaise lounge, and tuxedo styles. When you need to choose throw pillows to finish the look of your sofa set, the work becomes more challenging.
Here is a list of information you should know when choosing a brown couch and what color pillows would go with them.
Multiple Options For What Color Pillows For a Brown Couch?
Matching the proper accent pillows for a brown sofa is crucial, regardless of your main choice for the focal point. Pillow arrangement, color, size, form, and pattern are the five factors that need to be considered.
A brown couch may look beautiful with almost any cushion. But some of the hues that go well with brown are as follows:
Mustard yellow
An eclectic and varied living room that mixes modern, industrial, and Asian influences is made possible with a yellow cushion. The comprehensive color scheme effectively unifies the entire design.
Neutral colors
A neutral, relaxing color scheme is one of the safest color combinations for a brown leather couch. Light-brown couches are the best complement to the tile flooring, rug, coffee table, and wall. Therefore, make the throw pillows out of the same neutral colors.
Deep red
The typical brown couch in the living room may seem bohemian with the addition of red velvet pillows with vibrant designs. This luxurious cloth feels not only amazing but also gracefully improves the environment.
Bright orange
Warm and earthy colors like orange or copper create a welcoming atmosphere in the living area. To create a colorful couch set, you may place a few cream cushions behind the orange ones. You feel at ease immediately because of the tranquil and pleasant emotions these tones offer.
Teal
Brown tones generally go well with teal and blue-green colors. It's also important to remember that blue and green hues are linked to creativity, intellect, and expansion. Therefore, they make wonderful accents for spaces that serve as workplaces and study rooms.
Olive green
A brown sofa with earthy features can help you embrace a natural atmosphere. Since brown and green are frequently found together in nature, they go together flawlessly. You may use a few little green pillows to balance the area in your living room and one or two large cream or white throw pillows to lighten the overall effect.
Best Throw Pillows For a Brown Couch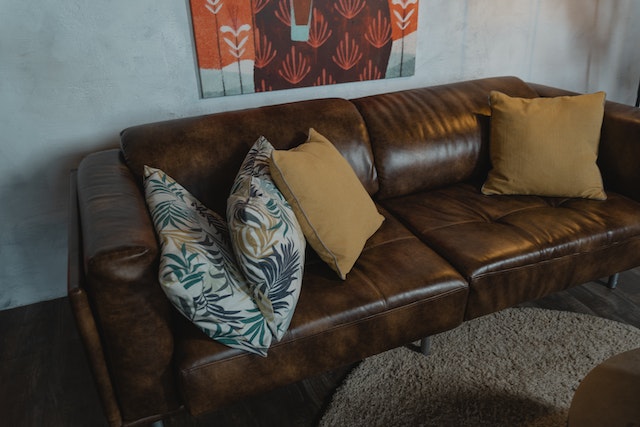 The throw cushion may be a very handy design item to give the couch a burst of color. Finding a nice lively color for throw pillows for brown couches that would go well with the brown couch's dramatic and deep-toned finish is more challenging. You must select the toss pillows that will look best in your home from the numerous sizes, hues, designs, and materials available.
Most Eye-catching Throw Pillows on Brown Leather Couch
Regarding home decor, throw pillows are my preferred item. Throw pillows with a large square form give a space depth, color, and texture. Additionally, they may provide character to the area. To arrange a brown leather couch, throw cushions may be placed in various ways to compliment the overall look. Additionally, rectangle shapes always seem fresh and sophisticated and perform significantly better. The most important color choices for a brown leather sofa include a grey palette, brilliant orange, blues, deep red, and olive green.
Key Points To Keep While Buying Throw Pillows:

The three most important considerations, whether the sofas are made of leather or any other material, are as follows;
Shape and size:
There are several sizes and forms available for throw pillows. Experiment with different sizes and shapes for the most dynamic appearance when selecting cushions for furniture. The most popular format for tossing pillows is square. They normally come in 16-, 18-, or 20-inch variants. Round pillows are far less prevalent than square ones, but they may be attractive if utilized to counterbalance the rigid lines of square and rectangular cushions. Throw pillows for the back are rectangular and elliptical. Similar to bolster pillows, they were first made to support the back, generally to balance square pillows or adorn an armchair.
Fabric:
You may find throw pillows practically in every fabric you can imagine, but these are the most frequently used. Cotton is the most preferred fabric since it is dependable, simple to clean, and informal. The second choice is velvet, which instantly warms up a room. The soft, opulent aesthetic that fur accents, particularly Mongolian wool or sheepskin, give to couches and armchairs has also been a big fashion in recent years. Since the fabric is typically interwoven with long-lasting materials like cotton or polyester, linen pillows require less maintenance than cotton pillows.
Print and color:
A few rules will ensure you make the best choice regarding throw cushion prints. Sticking to a similar color scheme is the best way to guarantee a unified effect if you mix and match patterns. The cushions' colors should only sometimes match the room's general color scheme, but they should be related. Another tip for blending patterns: Scale should be different between throw pillows and within a room. Choose a throw cushion in a way that sits in the middle of your living room, includes a rug with a small-scale design, and drapes with a large-scale pattern. To unify your home, use colors that complement the furniture and fabrics that are already there.
Conclusion:
Complimentary pillows for brown couches tend to go well with the color brown. Naturally, your preferences and selected color palette will determine your pillows' ideal color, tint, and specific hue. Always choose a classic-style sofa since it is timeless and complements everything. An entire sofa set is always lacking without cushions. Many people need to be aware of the potential impact that the type of cushions on a couch may have on the overall design of the item; however, cushion fads do come and depart as trends change.
Choosing from a variety of colors, sizes, and patterns might be challenging, but we have kept it as simple as possible for you to enhance your couches. To help you decide more wisely, we have chosen some traditional and upscale combinations. to give an aesthetic look, you need to ensure that the throw pillows are harmonized and mixed using the same color palette. It's optional that this color is based only on your couch. You may coordinate it with your carpets, drapes, and occasionally your walls.