Home Improvement Write For Us
Before we start it is an honor that you have reached ImproveResidence.com. It is the desire of every writer, they post their blog on a trustable platform where many people can acknowledge their work. So thank you for choosing us and we appreciate your work from heart and soul.
You may be looking for an authentic blog that can help you grow your audience. Home decor write for us is the perfect opportunity that will help people know about your blog regarding home interiors and home decor. As our website is growing we need high quality experienced and knowledgeable writers just like you.
Since our website has a lot of views it will help you to grow your website and portfolio as well. In collaboration with each other, we both can work amazingly on online home interior ideas. We can build our audience together and with the help of SEO services your article can nourish.
Home Decor Write For us
Our website is not like ordinary home interior websites that function on the basis of stories. Rather we have a quality standard and accept content that is up to the mark. As we want to build a trusting connection with our audience so we post all those blogs that are written by remarkable super talented writers. Therefore, we have maintained some quality standards for our website.
If someone is willing to write for us then they should have precise knowledge regarding home interiors and decor. No matter you are a newbie in writing or an experienced writer but you should definitely have precise knowledge regarding the field. So are you ready to provide new fresh and innovative content?
Content Quality
We have discussed earlier that we are in no way compromising on the quality of the content. However, we are open-minded to all types of topics regarding home decor so no matter how unique your topic is you can definitely share it with us.
There are some exceptions such as we hope that you are not planning our guest post for promoting your own work solely. The main reason for this exception is that we want the content to be informative for our audiences rather than the purpose of the content should to generate revenue for a business.
Guest Posting Guidelines
Before submitting your excellent work, let us give you our guest posting guidelines.
How To Submit Article
For article posting, you can simply send us an email (editor.improveResidence @ gmail.com). You can also send any kind of queries if you have confusion regarding guest posting. We will happily respond to you within a few hours. You can send your work to the same email and within 3-4 days we will post it. Before posting it, we will tell you our decision regarding your work. We both can work with a flexible approach.
Following are some of the points which you should go through before submitting your work to us.
We only accept topics that are related to home decor, home improvement, and DIY. Kindly stick to the objective of our website.
Your content should consist of a minimum of 800 words and a maximum of 2500 words.
You can add meta descriptions or use 1 link with your article.
Images with every sub-heading (Compulsory)
If it is required allow us to edit your content so do not give it in read-only copy.
We have 100% rights to edit published content.
We do check content on Copyscape Premium to identify plagiarism.
Final Statement
We would like to thank you again for reaching out to our home improvement write for us section. We are honored that you considered our website for your content. If you have any confusion regarding the criteria of writing for us or you want to discuss home decor topics you are always welcome. We will be glad to work in collaboration with you.
CHEERS!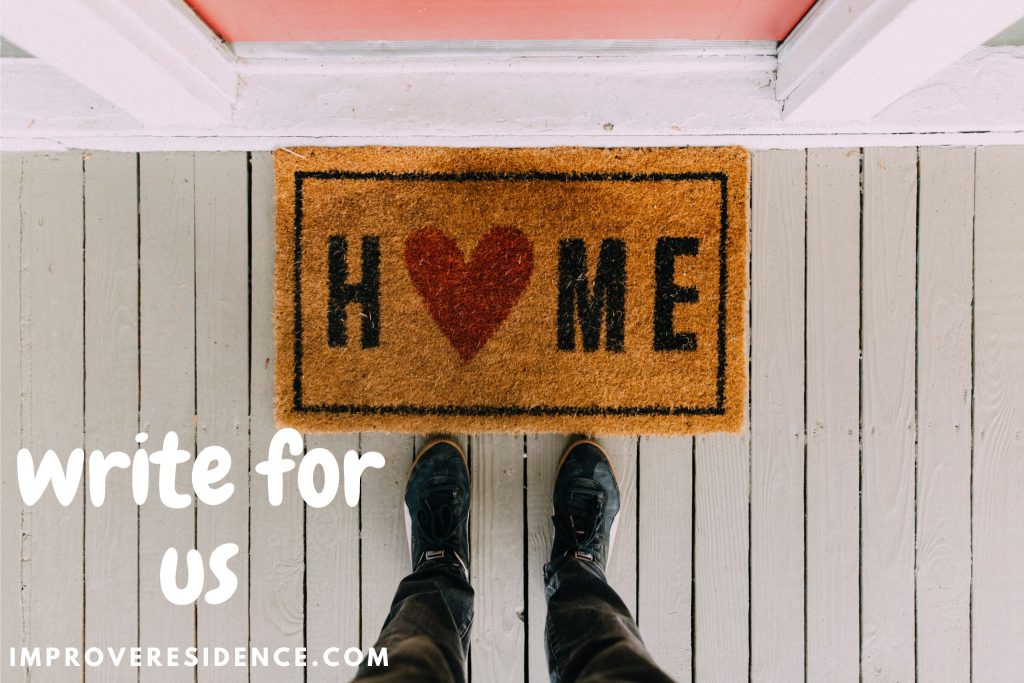 Home Blog Search Queries:
Home Decoration Write For Us
Home Blog Write For Us
Home Design Write For Us
Lifestyle Write For Us
Real Estate Write For Us
Interior Design Write For Us
Gardening Write For Us
Home Renovation Write For Us