A wedding is no doubt one of the most special days when you hold the hand of the love of your life with a promise of never letting go. Although it is a memorable day but wedding preparations make it a stressful day as well. Everything should be perfect, from clothes, venue, food, and decorations to ring is the ultimate desire of every couple.
Outdoor wedding gazebo decor is one thing that is trending these days. You can plan your wedding in a park, backyard, garden, beach, or any other outdoor place. Wedding decoration makes the whole theme of the event elegant and classy.
This article will be a lifesaver because we will provide a complete guideline about gazebo wedding decoration pictures, and gazebo wedding decoration ideas, and we will also explain in detail how you can plan a gazebo wedding.
Outdoor Gazebo Wedding Decor Ideas
When you desire to save some amount of money for your honeymoon and post-wedding plans then the best option is to plan your wedding decoration by yourself. Not just it will be a cheaper option but you will also get the decoration which you have been dreaming your whole life. The following gazebo wedding decoration ideas will give you knowledge about the setting and supplies you will need to turn your dreams into reality. We are going to discuss in detail three wedding gazebo decorating ideas.
Fabric And Floral Decoration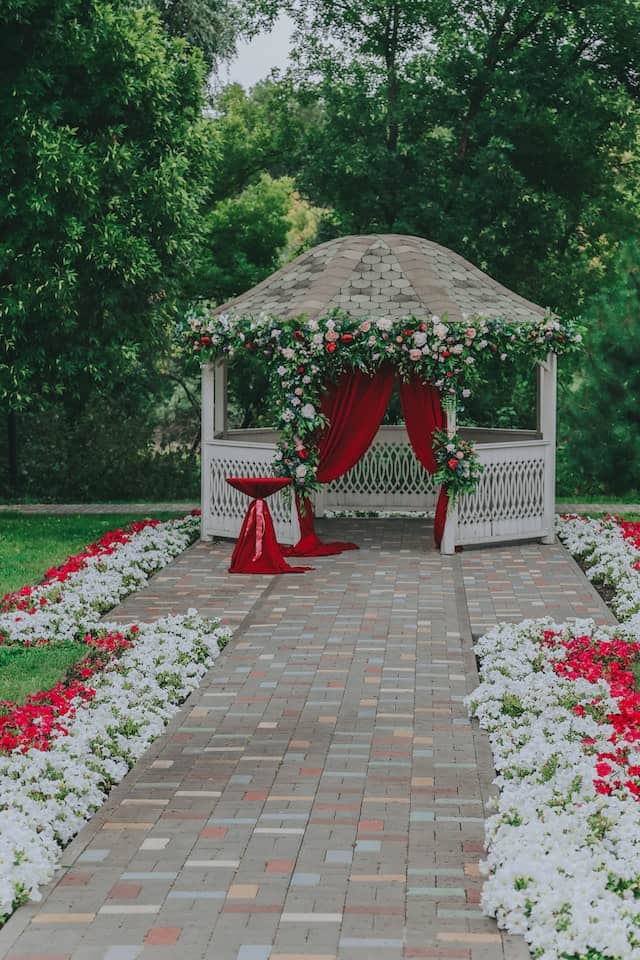 It is the most popular gazebo wedding decoration idea. Fabrics and flowers are the perfect combination to create a fairy tale wedding setup that gives the bride no less than a princess feeling on her wedding day.
For this dreamy set up you will need net fabric which you can hang around the gazebo. The length of the fabric should be from the ceiling to the ground. You can decorate the front part of the ceiling with greenery and flowers. The color of the flower and fabric should be similar or complement each other. You can also place a table covered with a fabric similar to the theme.
Simple Pillar Decoration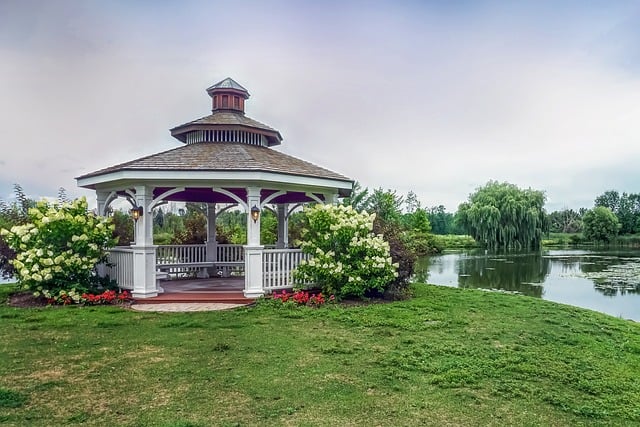 Simple pillar gazebo decoration is the oldest yet classic idea. For this, you will need large pillars that you can place on both the sides of entrance. You can decorate the pillars with a flower vase that complements the color theme.
Place a small table in the center of the gazebo. The table should have the same color fabric as the flowers. You can place candles, decoration items, champagne bottles, or cakes on the table.
Hanging Basket Idea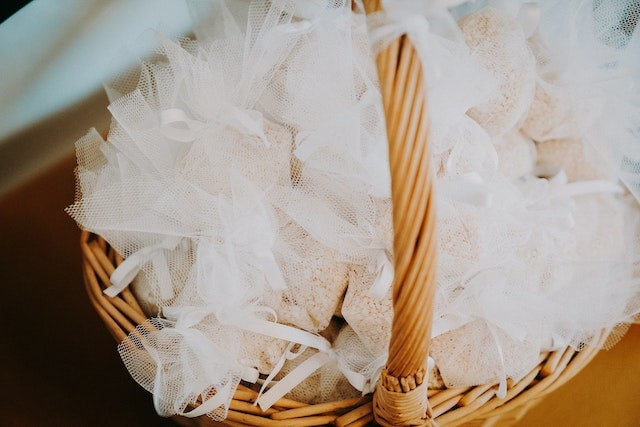 When you desire mesmerizing scenery that looks, close to nature for your wedding then you can select a hanging basket idea. A Close-to-nature gazebo theme is when you merge a light color with natural greenery. You can select the fabric of the color white, off-white, fawn, or light grey, and cover the ceiling with this fabric.
You can cover the gazebo with greenery and flowers of your choice. One thing you have to keep in mind is that the fabric color should match the color of the flower. For example, if you are using white color fabric then white color flowers will amazing with it.
After decorating it with green plants you can also enhance the look with a basket filled with flowers. Hang the basket on the gazebo hooks. In the center, you can have a round table with the same fabric as the ceiling. Decorate the table with some candles, and flowers, and you can also put your wedding cake on it.
How To Decorate A Gazebo For A Wedding?
The basic idea of outdoor gazebo wedding decoration might not be enough for planning the perfect wedding decorations. Let's get into this topic in a little more detail where we will discuss each and every part of a wedding decoration. Do read all the points so you do not miss any of them and build the best wedding setup.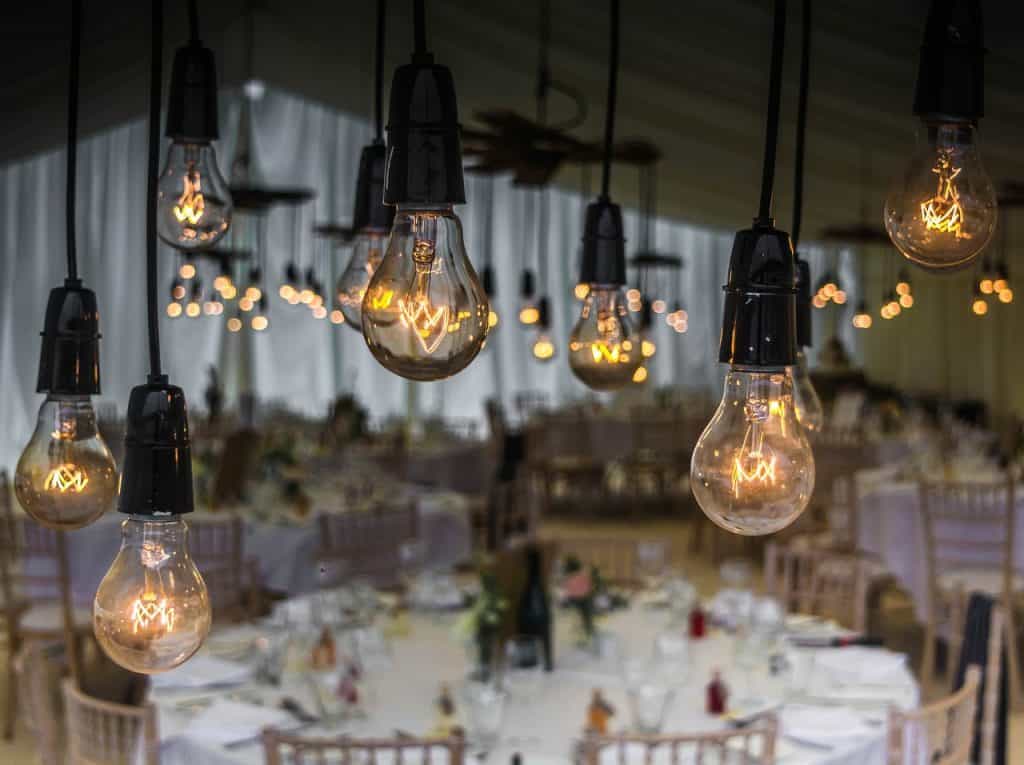 During the daytime, the lights may not add much value except for decoration but for any night party decoration, the lights are game changers. If you desire to enhance the look of the venue after the wedding party then add lots of candles, lights, and even light strings to create an elegant twinkly Star theme.
You can twist string lights around the pillars or hang a few lines from the ceiling of the gazebo. You can also hang large light lanterns. You can decorate the center table with candles and lights. The center of the gazebo can be decorated with a beautiful chandelier.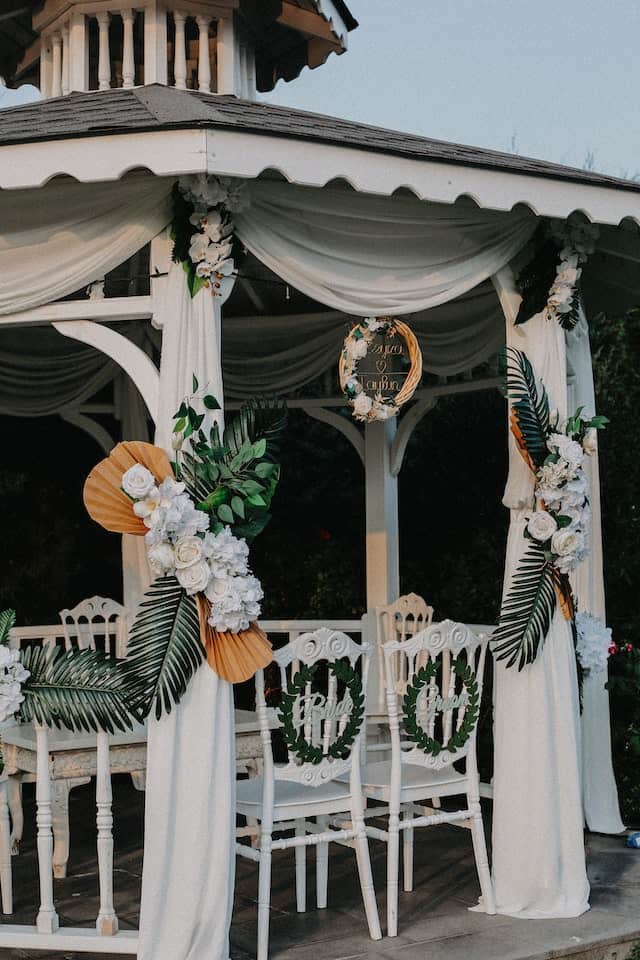 A wedding is incomplete without the scent of fresh flowers. Flowers can be used in multiple ways like on the ceiling of the gazebo, on the pillars, on the fabric, on both sides of the entrance, on the center table, and even on the floor.
You can decorate the venue with a single flower, a bunch of flowers, or place them in an elegant flower vase. Make sure you select the flowers according to the theme of your wedding decoration. You can also select flowers with colors that complement the theme.
Along with flowers, you can also use plants since in outdoor decoration greenery makes it even more attractive. You can place plants along with flowers or you can add some plant pots around the gazebo. The decoration of pillars and ceiling with plants gives some extra color to the gazebo.
Not only in clothes but also for weddings, decoration fabric matters a lot. You can decorate the gazebo with a net, silk, or cotton fabric. The selection of fabric material and color should be according to your wedding theme. The decoration around the gazebo should complement the fabric such as hanging lights, flowers, or plants.
Fabrics can add romantic, dreamy, and soft vibes to your wedding decoration. Mostly people install curtains or drapes to enhance the beauty of the venue. For curtains, you can hang them like pillars and tie them with flowers or ribbon just like you do in your house. Drapes are attached to the ceiling and they go along the pillars. You can also hang lights along with it to complete the look.
We are very aware of the wall of memories that people create in their houses. They paste memorable pictures with their family and friends. Why not create a similar theme on the most memorable day? You can select your memorable couple's pictures and create a Wall of memories as a wedding decoration.
When you look at all the beautiful moments you have spent with your partner you can relive them. Not only you but when your guest will see this wall of memory they can also enjoy the view of your memorable moments.
You can also add pictures of your loved ones who are not with you on this special occasion. This way you can feel that they are always around you showering their love and blessings.
If you have amazing craft skills and you want to put some extra effort into making your day perfect then add some DIY decorations to your plan. These decorations not only enhance the beauty but are also pocket-friendly.
You can make handmade Ribbons that you can tie around the curtain, pillars, and vase. Since fresh roses are expensive you can make DIY roses. You can place these roses in flower vases. You can also make a flower ring by using some flowers and leaves. You can hang these rings wherever you desire like ceilings, walls, tables, or pillars.
Everyone wants to add a charm of something innovative and different to the decorations of their big day. Think of something unique and elegant that can enhance the overall look. For example, you can hang colorful hats, bows or ties making the gazebo attractive.
Whether it is a birthday, bridal shower, graduation party, baby shower, or wedding, bunting has had the most significant role in centuries. The best part of bunting is that they are pocket-friendly easy to make and add amazing visual interest to the decoration. Select the message you want to write on it and design it. You can write with a marker or print and cut it.
Final Thoughts
With our detailed guidelines about outdoor gazebo wedding decor, you can plan your special day just the way you want. As a couple, you and your partner both should input your liking and thoughts towards the wedding decoration. You can make changes to the ideas and give your own touch as well because, in the end, this is going to be your day. You and your partner can have a lot of fun just planning your wedding.