Home designing and planning are critical factors for building the home of your dreams. When deciding on the interior structure, you must have always thought to go with the best one. Kitchens are the light of every home. You might not roam around every place of your home daily, but your kitchen is that one place where you step in daily.
Even if someone visits your place, they take up one round into your kitchen apart from your actual place, indicating that your kitchen should always shine, right? Kitchens can be turned into an aesthetic in multiple ways, but hickory cabinets make them more elegant. Hickory kitchen cabinets are famous for bringing vibrancy to the kitchen, but people often need clarification with the color combinations they offer.
If you are looking forward to adding hickory cabinets to your kitchen, stick to this to learn about the color schemes for kitchens with hickory cabinets.
TIPS TO ENHANCE YOUR KITCHENS WITH HICKORY CABINETS
As much s the style of the cabinets, slaps, and counters, their color palette and tone also matter significantly. The hickory cabinets come with a massive range of colors to choose from. What combinations and shades suits best with your kitchen is the accurate quiz for you to solve. So let's see the ideal color schemes for kitchens with hickory cabinets.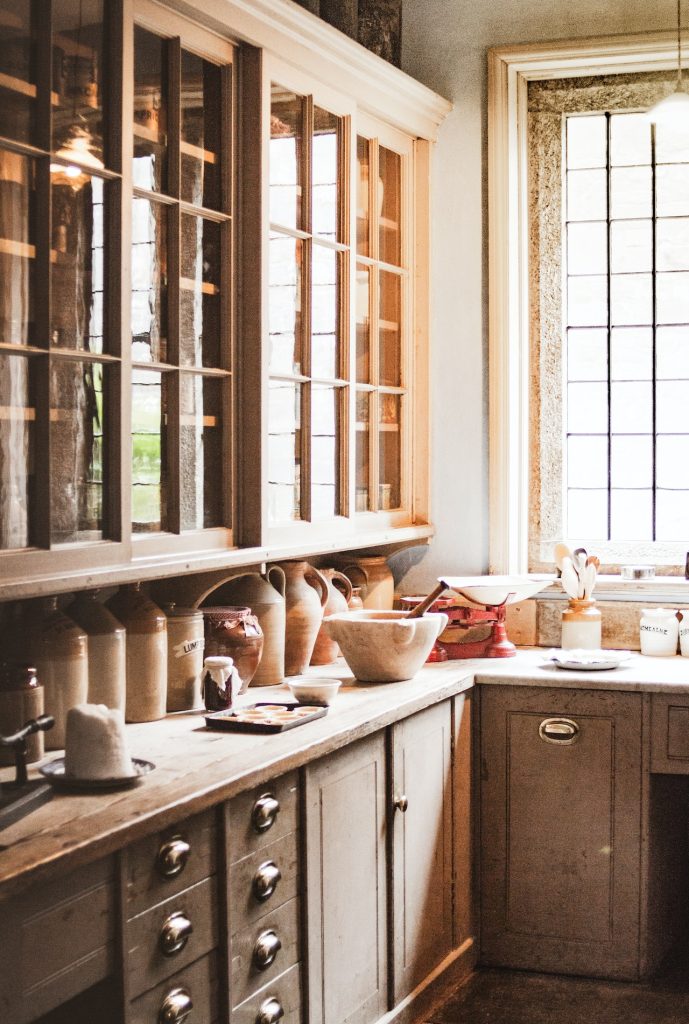 Neutral colors always tend to be the safest option with hickory cabinets. A combination of white, greys, and cream can easily match any dark or light shade and will not make the cabinets look uneven.
The best way is to coordinate the backsplash with the hickory cabinets. You should first identify whether the tone of your cabinets is lighter or darker. If it's more on the lighter side, you can add dark colors like burgundy and brown to your backsplash to balance the look.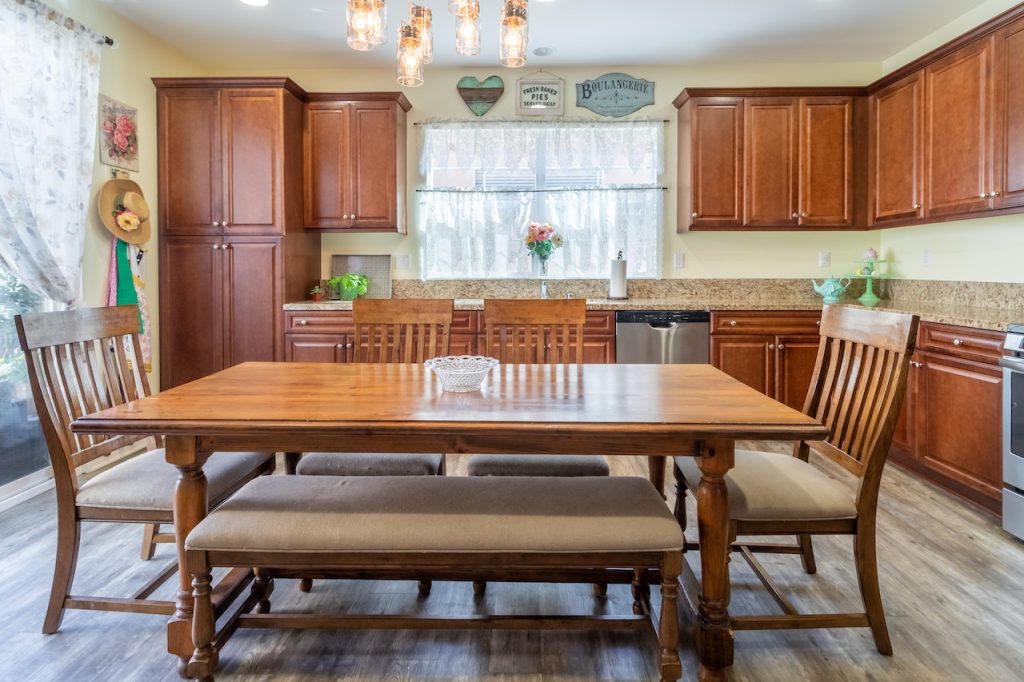 If you like to go for mix-and-match combinations, then choose hickory cabinets of lighter tones. In this way, the rest of your walls and backsplash can be turned into to cool tone hues such as greens and blues. The use of cool-toned colors helps to enlighten the kitchen, and these shades go well with light-colored hickory cabinets. 
Light tones such as aqua blue and sea green will make your kitchen look more pleasing. These shades are more likely to be used if you prefer to have different contrasts than one color.
It is also essential to coordinate your wall paint with the cabinets, apart from the backsplash. Some combinations, such as off-white and rust, can add a French touch to your kitchen. Moreover, sage green with cream tone and burgundy with beige tone makes some promising combinations that would make your kitchen look elite.
HOW TO DECIDE WHAT COUNTERTOP WOULD LOOK GOOD WITH HICKORY CABINETS?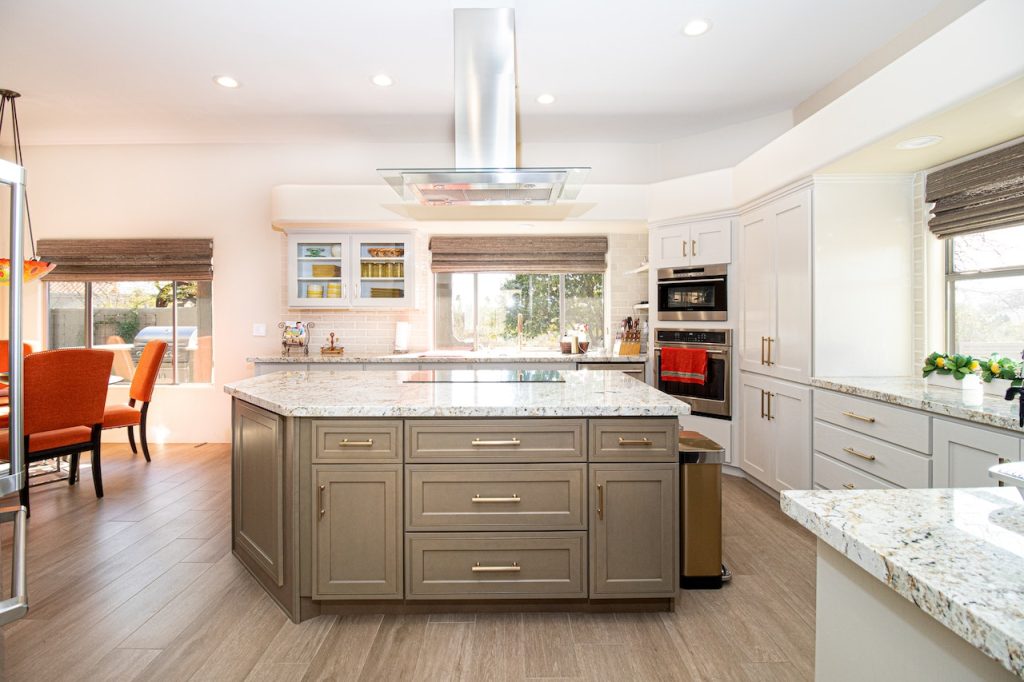 After deciding on the color of the hickory cabinets, backsplash, and kitchen walls, select the countertops accordingly. Countertops should always be chosen in darker shades than the paint of walls and cabinets. Shades of greys and black are most commonly used for counters as they do not easily match with all tones but also overall balance the color scheme. Similarly, white and off-white countertops also go perfectly with any combination. The white base looks decent and gives cool, cozy vibes that will uplift your mood anytime. Before you imagine designing your kitchen this way, check out how you can use these cabinets modernly and then decide collectively. 
MODERNIZE YOUR HICKORY CABINETS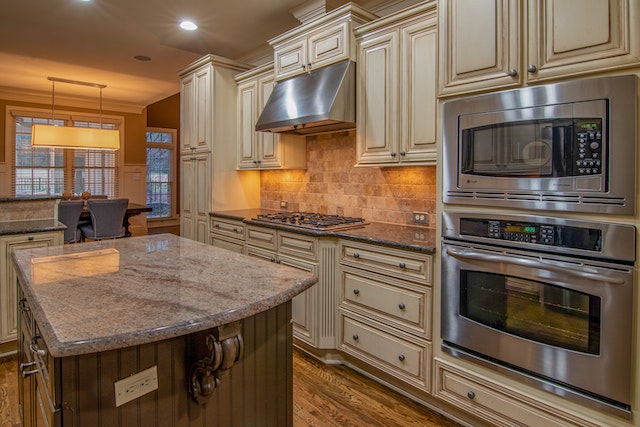 Some people might not be interested in hickory cabinets and find these cabinets old school. Still, you should know that you can turn those ordinary cabinets into modern hickory cabinets. It would be best if you were particular about the color palette you opt for. Be confident about your theme to continue executing the idea smoothly.
It would be best if you mainly worked on choosing high-end combinations for your walls, flooring, and ceilings. On top of that, using a metal backsplash would be the most incredible idea to give a modern touch to your hickory cabinets. Even though your backsplash could be made of tiles, wood, or steel, metal would give your kitchen the eye-catching look you are currently assuming to have. Besides metal, soapstone is also one good option, as its marble surfaces with solid hues can elevate the look without needing any combinations. 
You are now coming over to the essentials you keep in your kitchen and their coordination. Ensure not to hide things such as ovens and microwaves inside your cabinets. Instead, place them outside or attach them inside the walls, which can complement the hickory cabinets and change the complete kitchen view. Until now, you must know how to choose a suitable color scheme and coordinate your cabinets with different colors. It would be best if you always finalize things according to your interest. Various options are available, but you must identify what matches your vibe and carry on with that.
BOTTOM LINE
Kitchens with hickory cabinets are a great concept to think about. You might have to explore a lot, gather several ideas, and run errands in search of the best available options for hickory cabinets, especially the color schemes for kitchens with hickory cabinets, but this will help you build an incredible kitchen. Whether you wish to make one common or modern-style kitchen, hickory cabinets can serve the purpose in both ways. Think and plan what you require and go ahead with setting up your objective. The range of color schemes and combinations set up perfectly with discussed hickory cabinets will help you make a wise decision. So work out your plans and get your hands on hickory cabinets to upgrade your kitchen.