Due to global warming, air conditioning has become a necessity. Keeping the room temperature low has become a priority in offices, houses, malls, restaurants, hospitals, or any other place. What about the electricity bill? We all are aware that air conditions consume a lot of power supply that is not affordable for all. Therefore, scientists are working on new technology so that they can provide air conditioning facilities that consume less power.
Portable Air Conditioners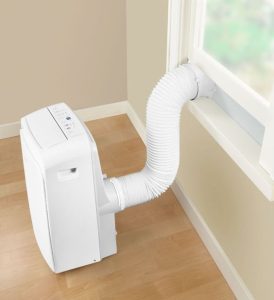 Portable air conditioners are one of the blessings of science and technology. If one cannot install air conditioners in all the rooms still they can beat the scorching heat with portable air conditioners. If you are sitting in your living room, office working desk, or in your bedroom you can shift this air conditioner.
Advantages Of Portable Air Conditioners
Below is a list of major advantages that portable air conditioners offer
Nobody wants to spend a lot of time on the installation of air conditioning. In such a scenario, portable air conditioners are a blessing because all you have to do is grab the kit and make the required connections. Within a few minutes, you will be enjoying the coolness of the machine. You do not need any drilling or tool kit to make permanent changes for installing a portable air conditioner.
The most common reason for buying a portable air conditioner is its price. You do not need to spend a large amount on an air conditioner to enjoy a cool temperature in your house. Portable air conditioners do not consume a lot of energy and there are cheaper options.
The best quality of a portable air conditioner is that you can take it wherever you want. If you spend half of your day in the living room and half in the bedroom you can shift the portable air conditioner according to your choice. They have handles that promote effortless Transport from one room to another. You will need a window where you can install the exhaust of the air conditioner.
Not only do they offer the advantage of cooling the room but they can perform multiple tasks. There are many models of portable air conditioners that function as a fan only, heater and also performs dehumidification. You can change the settings according to your needs.
Portable air conditioners also have filters attached to them that help in cleaning the air. They clean the atmosphere of your room.
Drawbacks Of Portable Air Conditioners
Below is a list of a few drawbacks that can give you second thoughts while buying portable air conditioners
Portable Air Conditioners Do Not Provide Efficient Cooling
Comparing portable air conditioner with Central air conditioner the differences is huge. As portable air conditioners consume less power they also are not much efficient when it comes to functionality. Central air conditioners have excellent performance and they cool down the room within a few minutes while maintaining the temperature. On the other hand, there are a few complaints with portable air conditioners that they do not cool down the whole room efficiently.
They Can Only Maintain The Temperature Of A Small Area
Air conditioners have a simple rule, more power consumption results in more efficient functioning. Portable air conditioners can only cover a small area as compared to other air conditioners. You cannot cool down your whole house or even two rooms with a portable air conditioner. If you want to cover a larger area you should buy a bigger unit of the portable air conditioner.
If you are short of time then moving a portable air conditioner from one place to another seems to be a huge task. You have to move it from one room to another and then set up the kit as well. There is also one issue with these air conditioners they require a window nearby for the exhaust. Sometimes it becomes irritating.
They Are Huge In Size And Do Not Look Good
Portable air conditioners are huge in size and consume a large corner of your house as well. Most people have complaints that as they occupy space and due to their outer appearance they destroy the interior of a room. Other Air Conditioners are not very prominent and are installed on the wall or ceiling hence portable air conditioner looks uglier than them.
Compared with other air conditioners portable ones are much noisy. If you are installing portable air conditioners in your bedroom they can disturb your sleep.
Are They Actually Portable?
When we hear the word portable the first thing that comes to our mind is something that we can carry from one place to another easily. Surprisingly portable air conditioners weigh around 50 or more pounds. You should have a lot of strength to move this air conditioner frequently from one place to another. Hence it is not a good option for physically weak and seniors.
How To Install A Portable Air Conditioner Window Kit
By following the below steps you can easily install a portable air conditioner in your room.
First, read the instruction book carefully that comes along the air conditioner.
select a Place where you want to install a portable air conditioner. The area should have an electrical outlet and A window as well. Make sure that the air conditioner is away from any object that can cause a hazardous incident.
Check if the window adopter is fixed to your window. After placing the window adaptor connect the exhaust hose with it. With the help of taping you can secure the exhaust hose so it does not lose connection.
Now you will plug in the portable air conditioner. Switch on the power and your air conditioner will start working.
Sometimes the room does not have a window or an electrical outlet both at the same point. You can install the exhaust of the air conditioner on the ceiling or sliding Glass door of the room.
Final Thoughts
A portable air conditioner has both benefits and drawbacks, it completely depends on your circumstances. For some people, the benefits overcome with drawbacks and they prefer buying portable air conditioners. While others desire a more comfortable lifestyle and can easily spend more for it. We hope that our article will give you sufficient knowledge to make the right decision to purchase of portable air conditioner window kit.