The holiday season is just around the corner, and many people are looking for ways to infuse their homes with the festive spirit! One of the best ways to create a welcoming and Christmassy atmosphere without breaking the bank is to focus your decorating efforts on the front door. Your front door is like the focal point of the home's exterior, and it's the first thing visitors and passersby see. With some creativity and a few budget-friendly yet effective ideas, you can turn your door into a feature of holiday cheer. In this blog post, we'll explore some easy and affordable ways to decorate your door for Christmas.
7 Ways to Decorate Your Door for Christmas
Spray Fake Snow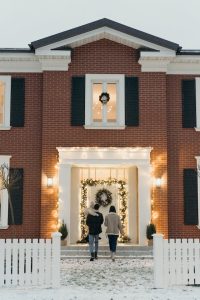 A white Christmas isn't always guaranteed, but that doesn't mean you can't take matters into your own hands. Transform your front door into a winter wonderland by using fake snow spray. This quick and easy method adds a frosty touch to your home's exterior. What's even better, is that fake snow is easily removable, and won't cause any damage to your door, so you don't have to worry!
A Traditional Wreath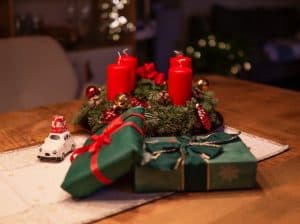 A classic choice, the traditional wreath instantly adds a festive touch to your front door. What makes a wreath so effective is that it's totally customizable. Whether you prefer natural greenery or an artificial wreath with vibrant colors and different textures, a wreath brings a warm and inviting feel to your home and will complement any style of door. When refining your home's exterior, choosing the right front door is half the battle. Finding a door that ensures security, style, durability, and energy efficiency can seem daunting, but with the right manufacturer it couldn't be more straightforward. At Comp Door, customers are guaranteed quality, security, and thermal efficiency for the colder months, and the freedom to design a door that suits their own personal style with more than 30 styles and 250 color combinations to choose from.
Framing with Fairy Lights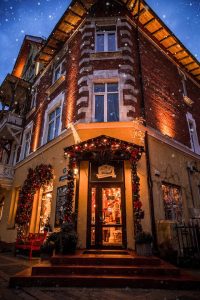 Twinkling fairy lights are the perfect decoration for Christmas. Simply string them around your front door, and you'll create a dazzling and whimsical effect. Fairy lights are available in most shops, and they won't leave any marks or damage your door if you hang them from the brickwork, making them a hassle-free choice.
Using Signage Above
Enhance your door's festive aesthetic with a themed sign placed above or beside it. Whether it's a "Welcome to Santa's Workshop" sign or a "Happy Christmas" plaque, it instantly sets a joyful tone and communicates to passersby that your home is full of festivity. These signs are appealing to both children and adults!
A Large Bow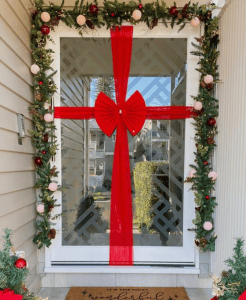 A simple yet impactful way to add playful Christmas cheer to your front door is to wrap it in a colorful bow. A bold red, green, or gold bow provides a touch of elegance, transforming your door into a Christmas centerpiece for your house. Plus, it's a low-cost option that's easy to install.
Frame with Small Trees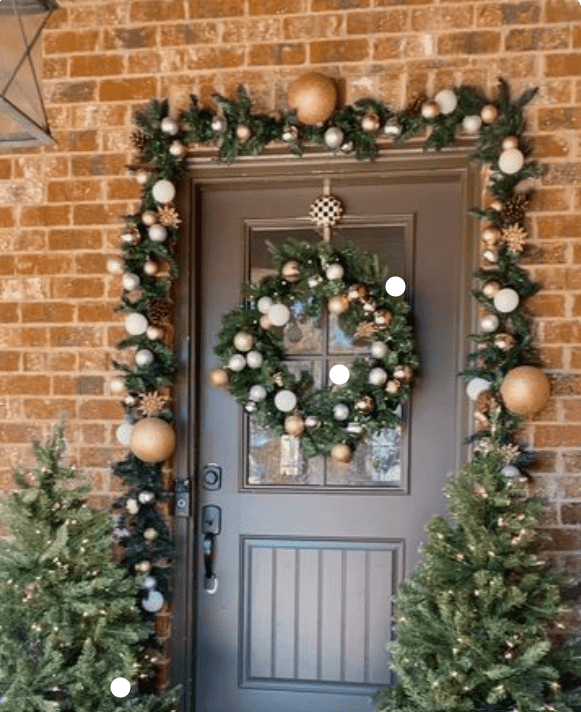 To create a winter wonderland or festive entryway, place a couple of small, decorated Christmas trees or ornamental potted plants near your front door. These little additions are easy to find and require minimal maintenance. They don't damage your door but still make a huge impact and draw the eye to the front door, making them a convenient choice.
A Festive Doormat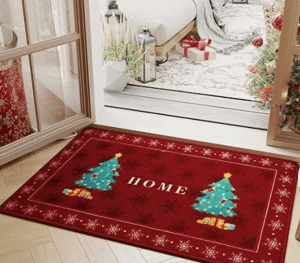 A festive doormat is an affordable and readily available decoration that can be found at most homeware shops. It's an easy way to welcome guests with a touch of holiday cheer. They're also incredibly versatile, coming in many designs to best suit your aesthetic. For those wanting a jolly style, there are gaudy, jokey designs on offer; or for homeowners that prefer a more elegant, simplistic design, there are minimalist doormats available that convey a more subtle Christmas welcome.
Also Read: Alternatives To Caulking Around The Bathtub
Decorating your front door for Christmas can be simple and inexpensive. By focusing on simple, affordable, and damage-free options like wreaths, fairy lights, signs, bows, small trees, doormats, and fake snow, you can create a beautiful and festive entrance that spreads festive joy to all who pass by.
So, get creative, let your holiday spirit shine, and make your front door a beacon of Christmas cheer! Don't forget, though, these decorations aren't of any use unless you have a reliable, sturdy door that will keep your home warm and safe throughout Christmas and the colder months. Investing in energy-efficient, secure composite doors such as those available at Comp Door will provide you with the durable canvas you need to decorate your entryway as you please!