Too lazy to go to the cinema? Or if you are anything like us and enjoy living life hassle-free, then the home theatre might be a thing for you. The home theatre provides a cinema-like experience from the comfort of your home. However, it is pertinent to have a tool that protects the system from a power outage or a surge in electricity; that's where the home theatre power manager comes in handy. It helps save high-class and costly electronic devices and powered equipment from random power outages or voltage drops.
Why is it necessary to install power managers?
Installing a power manager becomes essential in rainy areas where lighting strikes and power cut out are widespread; a power manager in places like these becomes a necessity than a luxury. Besides, it is always wise to take preventive measures rather than corrective ones. This could protect not only your home theatre but also enhance its performance. Here we have crafted a collection of some of the widespread power managers.
The Panamax MR4300
This is a 9-outlet power management system, primarily designed and put together to provide protection and filtration, and it also monitors the power of your home theatre system. This product offers several layers of surge protection. In cases of overvoltage or under-voltage, it displays a flashing red light, and power to the equipment is automatically turned off.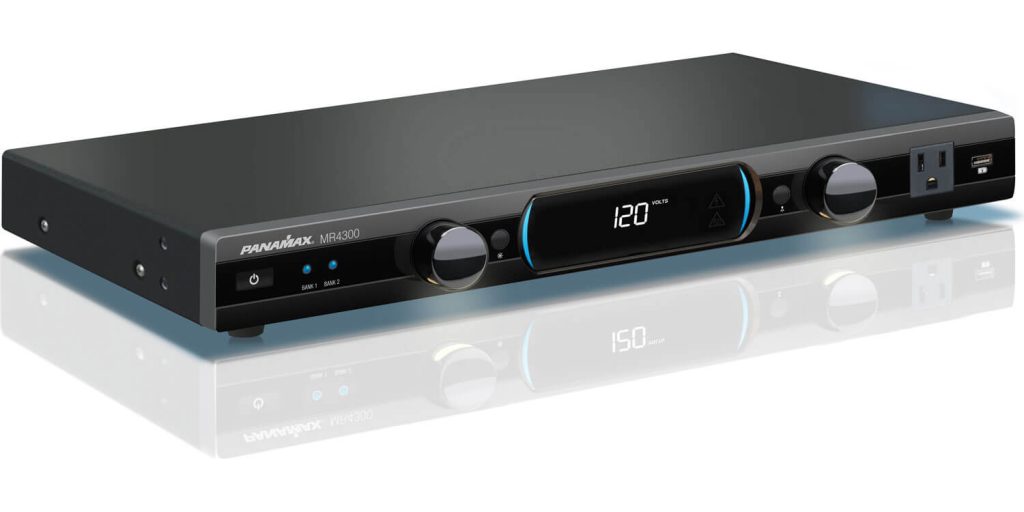 Pros
It has a clean sound and continuously monitors the incoming power.
Easy to install.
The component size is satisfactory.
Cons
It is expensive.
It has lower music quality.
Panamax MR4000 8-Outlet
This equipment is precisely engineered to provide protection and filtrated power to the home theatre system. It also guards against harmful power spikes and currency fluctuations that can damage your av system and significantly affect its performance. This product also allows a $5,000,000 limited lifetime connected equipment protection policy.

Pros
The design is satisfactory, as it is light and compact.
This product has good quality for its money.
It has a clean power outlet.
It is easy to set up.
Cons
It is expensive.
Some customers found noise complaints from this product.
Furman PL-8C 15 Amp
This equipment consists of 9 outlets with dual retractable LED lights; the SMP technology provides high spike and surge protection. Such a product is perfect for instrumental rigs, home recording, DJ equipment, and home entertainment system. Because of its isolated outlet banks, it reduces inter-component interference and noise contamination.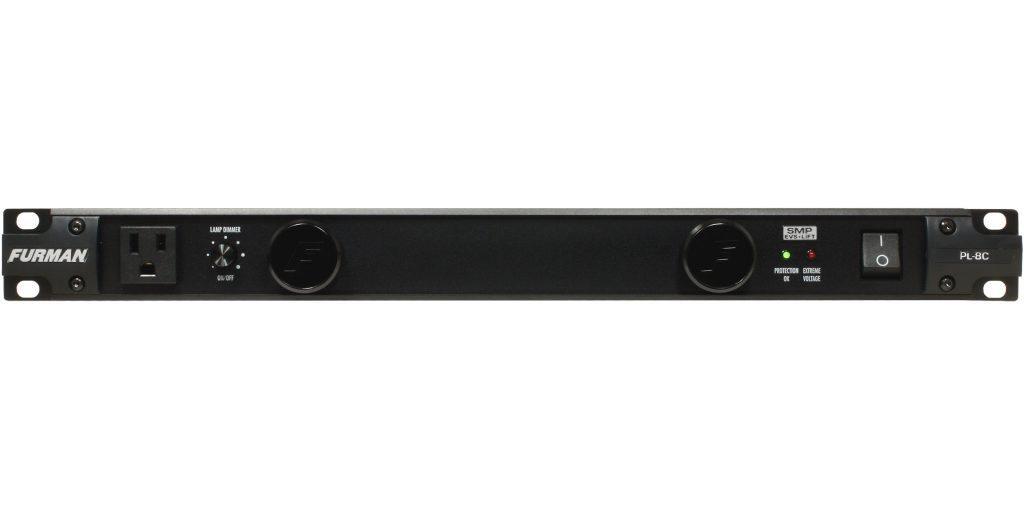 Pros
This product has a high-quality protector.
It has a reasonable cost and high performance.
It is a good quality product.
Cons
A few customers complained about this product shutting down the whole system when it does its job.
The design is not satisfactory.
Furman M-8×2 Merit X Series
The Furman M-8X2 Merit X Series is a 9-outlet power manager. This low-cost AC power solution for rack mount systems protects from the power surge to ensure the equipment remains safe. It consists of a 15 amp rating with a circuit breaker and a front panel that says "protection OK" to indicate that the equipment is being protected.

Pros
It works excellently in protecting expensive gear.
It is very affordable.
In cases of severe surges, it works very well.
It is easy to use
Cons
The design is very plain.
Furman AC-215A Compact Power Manager
Furman's AC-215A compact power manager consists of exclusive SMP technology that helps in providing the maximum level of surge and spike protection. It offers linear AC power filtering making sure that there's clean power. Its compact chassis design can easily be attached to any flat-screen television mount.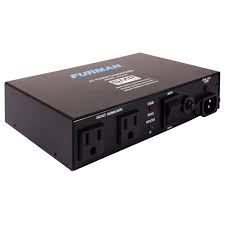 Pros
The price is within a reasonable range.
The design is satisfactory.
Works best in cleaning up the background noise and giving a much clearer sound.
Cons
Some customers had problems in one of the outlets.
Some customers found it ineffective in reducing noise on the AM radio stations.
Conclusion
If building a home theatre power managers are your dream, don't let "dirty" electricity taint your dreams. Head to your nearest appliance store and invest in good-quality power managers to protect your devices from electricity spikes. Feel free to consult our list to make your home theatre dream a reality.